Originally Coauthored by: Shawn P. Conley, Seth Naeve and John Gaska December 14, 2016.
Modified by S.P.Conley 1/22/18.
Before we start, we fully acknowledge our title "Best management practices for growing second or third year soybeans" is a bit misleading as we do not advocate this practice (its not a BMP!) but we thought we could sucker you into reading this article if it had an enticing title!
Our main reason for updating this 2017 article stems from growers questioning their 2018 bottom line and USDA's announcement that U.S. soybean acres in 2018 will surpass U.S. corn acres.  These acres have to come from somewhere and many of them will be from second-year soybean.
With all of that being said here are some recommendations to consider:
Balancing short-term versus long-term profitability (i.e. economic sustainability). Short-term profitability may drive some farmers to consider planting more soybeans in 2018.  Data from our long -term rotation experiment clearly shows the benefit of crop rotation to the soybean crop. It is amazing that after 5 years of corn, it only took 3 years of continuous soybean for the yield to drop to within 7% of continuous soybean (20+ years) yield levels whereas 2nd year soybean yielded within 5% of soybean in a corn-soybean rotation. We could hypothesize then that the yield of the 3rd year of continuous soybean (in our experiment) would be similar to a 2ndyear of soybean in a corn soybean (C-S-S) rotation. Our data clearly shows that 3 or more years of continuous soybean gives you a 7+ bu per acre hit when compared to a corn-soy rotation and moves you close to that of continuous soybean. In short, you are setting your long-term profitability up for a hit. So what do you do? If it were my land I would stick to my rotations on my owned land and consider 2nd year soybeans on the rented ground.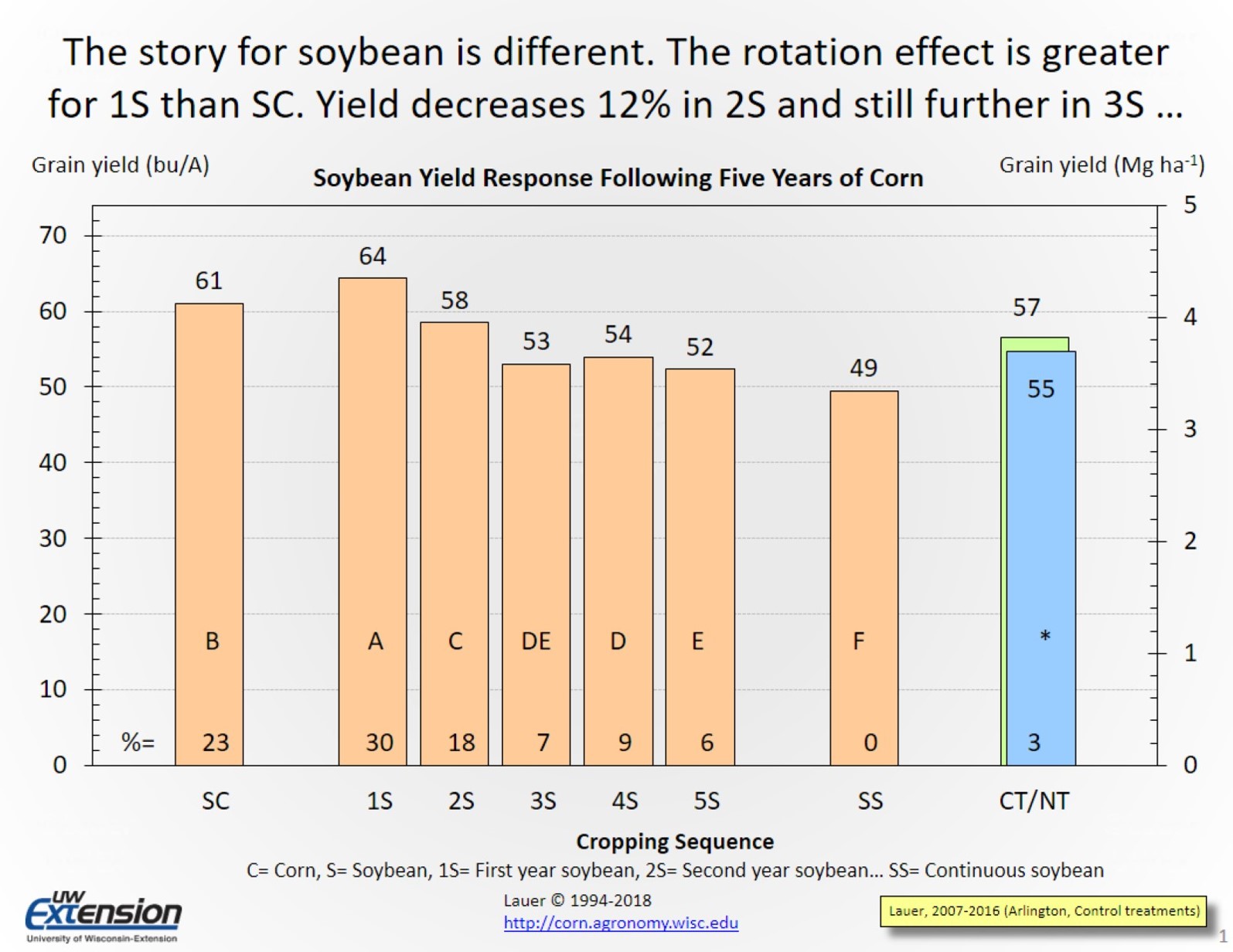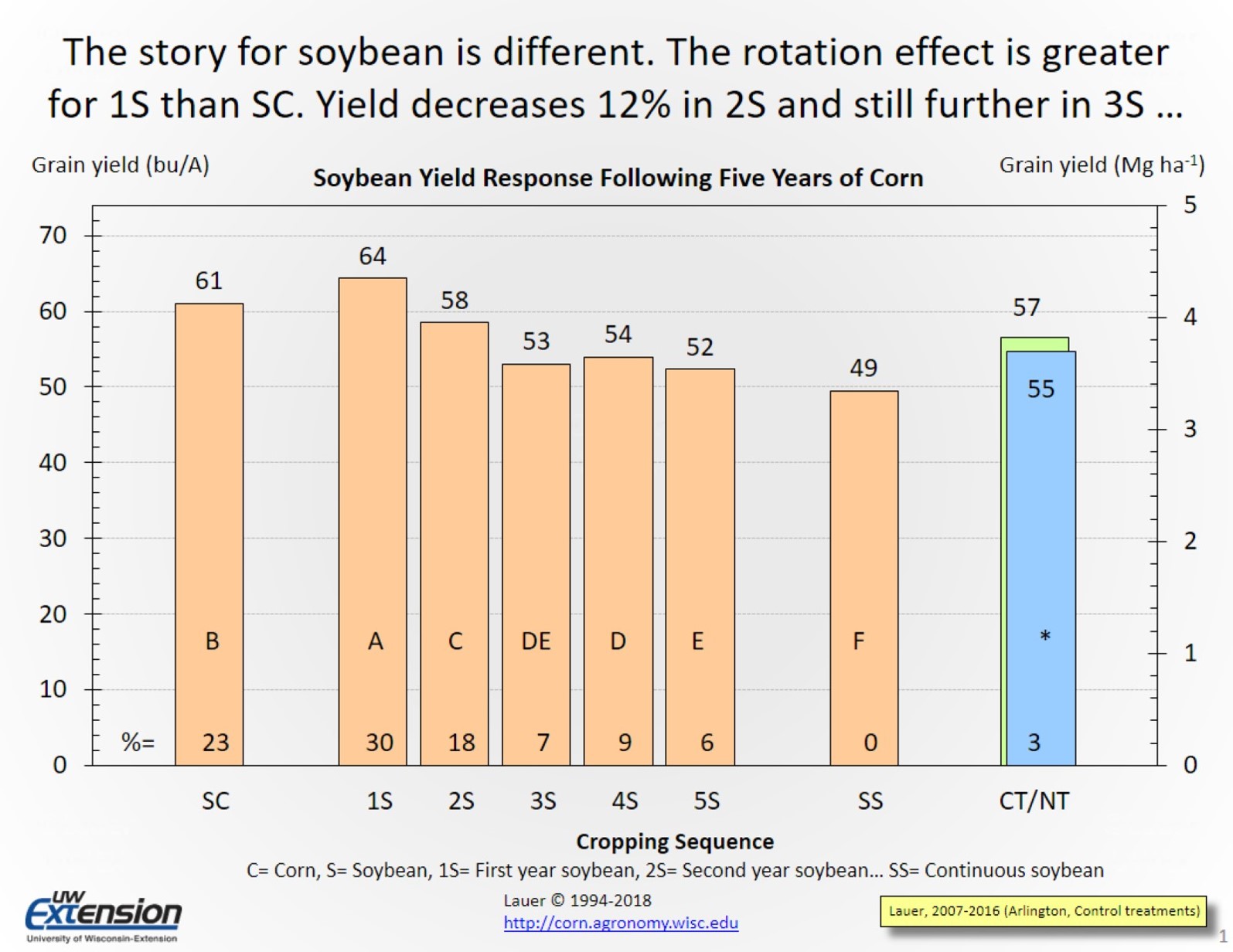 Be aware that soybean after soybean will alter the pest complexes in your fields.  Some of these alterations may take years to undo as you will be making a long-term impact on your soil and resulting soil health. Also don't automatically think that simply adding a cover crop to this S-S rotation will "fix" these issues.
 

Plant a different variety than was planted in that field last year and make sure it has strong disease resistance traits to the problems you have in that field! Every variety has a weakness and planting the same variety on the same land 2 years in a row will expose that weakness.  Note that these varieties must be truly different.  The same bean in a different color bag will greatly increase your risk of disease losses.  Please see our 2017 Wisconsin Soybean Variety Performance Trials for information.
Test for SCN and select SCN resistant varieties. SCN proliferates in long-term soybean cropping systems.
Be prepared to scout your fields more intensively to get ahead of any disease problems. Increased disease pressure may provide an opportunity to see yield responses from fungicides and insecticides.  You may need to include these costs into your original economic decisions. 

 
 

Keep seeding rates lower if white mold was a problem in the field 
Use a seed treatment at the max a.i. fungicide rate. 
 Use a pre-emergence herbicide and use multiple modes of action. If you had weed escapes, expect even larger problems in soybean after soybean. 
Soil sample and replace K if needed: I know growers are going to want to cut back on inputs but 2017 brought us above trend yield. An 80 bushel soybean crop meant you removed ~98 pounds per acre of K20 equivalent fertilizer. Growers often routinely rely on carryover fertilizers for soybean when rotated with well-fertilized corn.  Soybean after soybean may require additional fertilizer, especially K.
https://coolbean.info/wp-content/uploads/sites/3/2018/01/Soybean_Rotation.jpg
1232
1595
shawn conley spconley@wisc.edu
/wp-content/uploads/sites/3/2017/10/coolbean.png
shawn conley spconley@wisc.edu
2018-01-22 15:18:00
2018-01-22 23:04:11
Best Management Practices for Growing Second or Third Year Soybeans