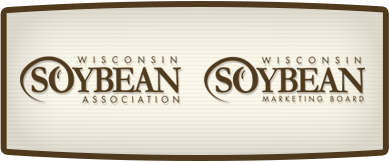 The 1st place winner in Division 4, RnK DeVoe Farms of Monroe, grew DuPont Pioneer P31T77R and harvested 93.15 bu/a.  In second place, Bahr Farms Inc. of Darlington grew Asgrow AG2535 and harvested 90.19 bu/a.  In Division 3, Steve Wilkens of Random Lake won 1st place with NK S21-M7 Brand at 89.39 bu/a, and in 2nd place, Jim Salentine of Luxemburg harvested 75.19 bu/a with Steyer 1401L.  In Division 2, Bork Farms of Grand Marsh achieved 91.49 bu/a from LG Seeds C2020R2 for first place.  In 2nd place, Peavey Farms of Woodville harvested 76.47 bu/a from Croplan R2C1400 soybeans.  In Division 1 at 67.02 bu/a was David Lundgren from Amery who planted Croplan R2C1572.  2nd place winner in Division 1 was Dawn Lundgren from Amery.  She harvested 64.22 bu/a from DuPont Pioneer P16A35X.
Bork Farms of Grand Marsh was also the winner of the Soybean Quality contest with 2,970 pounds of protein plus oil per acre.
The contest is sponsored by the WI Soybean Program and organized to encourage the development of new and innovative management practices and to show the importance of using sound cultural practices in WI soybean production.
For more information please contact Shawn Conley, WI State Soybean Specialist at 608-262-7975 or spconley@wisc.edu
https://coolbean.info/wp-content/uploads/sites/3/2018/01/logos.png
162
389
dank
/wp-content/uploads/sites/3/2017/10/coolbean.png
dank
2018-02-01 16:00:27
2018-02-01 19:56:37
Winners of the 2017 WI Soybean Contest are Announced